Skylight pleated blinds

Product Description:
Pleated Shade Skytrack Skylights are the perfect solution to those pesky skylights and incline windows where traditional window coverings just won`t do. They add privacy and control to your home. Insulating fabric helps control temperature and prevent sun gain, leading to better energy efficiency. Plus they block out UV rays which can damage and fade your furniture. You can add extra liners to increase these benefits including the day liner and the 100% light-blocking midnight liner, a good option for day sleepers or media rooms. These shades come in an array of fashionable colors and upgradable premium colors and patterns are available. Coordinate your other windows perfectly with our Pleat ed Shades, also available for arches.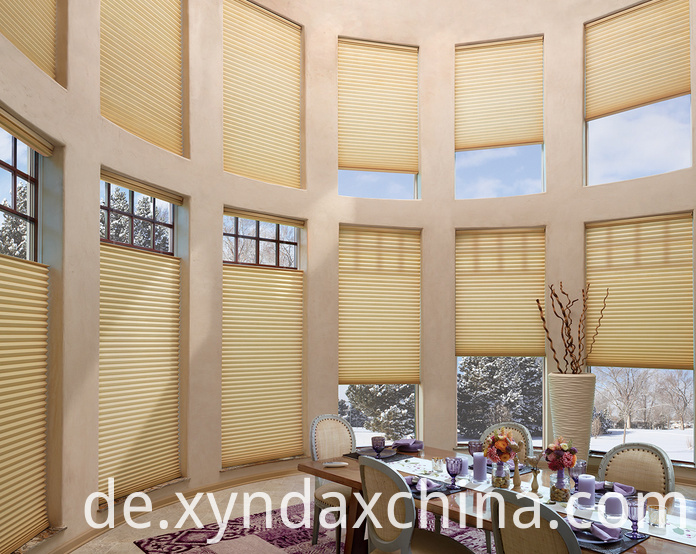 Why choose our pleated shades for your home?
Pleated shades are the perfect choice for many rooms and styles. Here's why:
Pleated blinds have a number of advantages that make them an excellent choice for apartments and houses. These blinds are not just unique and easy to use, they also contain an aluminium coating that repels heat and keeps your home cool in the summer and warm in the winter, making them ideal for south-facing conservatories.
Protection from UV rays
As previously mentioned, the aluminium coating that`s used to create pleated blinds has a reflective coating that prevents UV rays from entering the room and damaging floors and surfaces. This coating is also excellent for blocking the cold from window glass while keeping the warmth inside the room. You will certainly save a considerable amount on your heating bills.
Light control
Another advantage is that you can control the amount of light you want entering the room without completely blocking away the sunlight. Even when the blinds are drawn, your room will still look bright and airy. To make your rooms darker, you can always opt for darker colour patterns. These pleated shades come in different designs that help block light and provide darker accents to rooms. The good news is that there are a variety of fabrics to choose from without breaking the bank.

Pleated fabrics can be lowered and raised and there are distinguished design differences between pleated and roller shades. The roller blinds for example, are made in a honeycomb shape that is formed in the centre of the blind. The pleated shades don`t have air pockets, nor do they have multiple layers of fabric. They use a single layer fabric to block the sunlight from entering your room. These blinds provide a combination of elegance and appeal while costing less than roller blinds.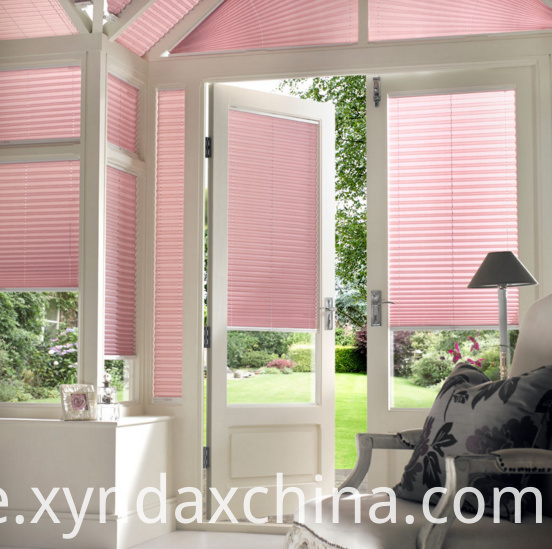 What Are the Benefits of Pleated Blinds?
Pleated blinds can be an exciting addition to your interior decoration. They are available in wide variety. In fact, you can find most varieties in it. It can make any window look good.They have several benefits which have made it a favourite amongst the homeowners. Following are some of the benefits of pleated blinds:
• They have an unique contemporary style which can look good in any window, either big or small. Unlike roman blinds and roller blinds, which particularly look good on big and picture windows, pleated blinds suit on small apartment windows as well.
• Another advantage is that it allows one to control the amount of light he/she wants to permit. It helps in creating warmth in the room without permitting the blazing sunlight in. It does not block away the light completely like blackout blinds and hence the room would look bright even when the blinds are drawn.
• They are also available in wide range of colours and pattern. Unlike blackout blinds, which are available mostly in dark colours, the choices of colours are seemingly endless with pleated blinds.
• Also, a wide variety of materials are also used in pleated blinds. One can choose from fabric blinds to the plastic ones.
• They are also cost effective. It usually costs less than roller blinds and roman blinds.
• The cordless versions would ensure easy maintenance and can be operated even by kids.
• It can be custom ordered, i.e. you can order the same to be made to fit in your windows. These blinds look equally good both on big and small windows.
• Since they are single layered blinds, they are light in weight. These are ideal choice for people looking for single layered blinds.
If you like to change the colour of your walls and interior too often, you may settle for neutral colour pleated blinds. Some of it comes with the feature of filtering the harmful UV rays from entering into the room.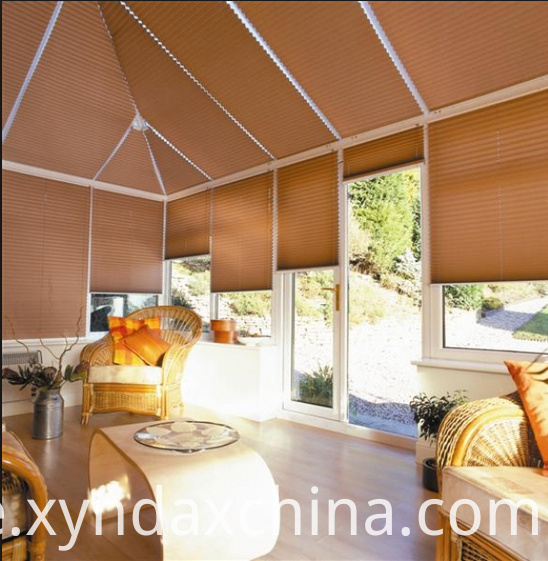 About Us
We are professional Faux wood Venetian Blinds,Vertical Blinds,Roller Blinds, Honeycomb Blinds and so on. In order to accommodate all kinds of request for our customer and Market, From a single product factory to develop a comprehensive factory, it is will be very convenience for our customer. Professional in developing designing and production. With over 30 years' experience in window covering products. We always keep Quality as the first priority; We always treasure our customers; We always keep our credit. We always do our best to provide the best service and products to our customer from China and oversea. Currently our major Market: USA and Europe; Secondly: Australia: New Zealand; Canada; Singapore, South Africa; The Middle East and so on. Factory Slogan: Best Quality; Best service; Best Price for our customers.
Contact Us:
Please feel free to contact us if you have any question,Due to the time difference, you will receive our reply within 24 hours except holidays. It is our honor to provide you the appropriate solutions if you have any problems about our products.
If you are satisfied with our products and service,Welcome to leave us a positive feedback.Your Kind good comment is a great support to us.
We will strive to provide the best service and bring the highest satisfaction to all of our customers. More details please contact us directly. thanks.